CPR INSTRUCTIONS for small dog:

1. Lay your pet down on his right side.

2. Kneel next to him with his chest facing you.

3. Place the palm of one hand over the ribs at the point where the elbow touches the chest. Place the other hand underneath the right side of your pet.

4. Compress the chest 1/2 inch to 1 inch with elbows softly locked during compressions.

5. Chest compressions are alternated with breaths.

6. If working alone, do five compressions for each breath, then check for a pulse.

7. If there are two people, one person does the breathing while the other performs the compressions at a rate of two or three compressions for each breath, then check for a pulse.

NATIONAL ANIMAL POISON CONTROL

1-900-680-0000

1-800-548-2423

Schnauzer Brown Beard

Listed below are things you can try to get rid of the brown in your schnauzer's snowy white beard. Remember, that the brown is being caused by an allergy or something changing the pH in your dog's saliva. So, you must find the cause of the problem and elminate that along with getting the stains out.

1) Eliminate anything with red dye in it in their diet.Eliminate the colored snack treats. Example: Choose the plain milk bones instead of the multi-colored ones.

2) Put their food and water in stainless steel or glass dishes. Plastic can sometimes cause discoloration.

3) Make a paste of equal parts of milk of magnesia, hydrogen peroxide (over the counter type) and cornstarch. Put the paste on the discoloration and let dry. (The hard part is to keep your schnauzie from licking this off before it dries). Brush out when dry. This will have to be repeated a few times.

4) Use a shampoo with bluing in it. (I think this is the key). I use a people poo called Clairol's Shimmer Lights. Sally's Beauty Supply has a generic brand that works just as well and it is half the cost.

*If you have suggestions that worked for you, email me and I will put them up here.  Thanks!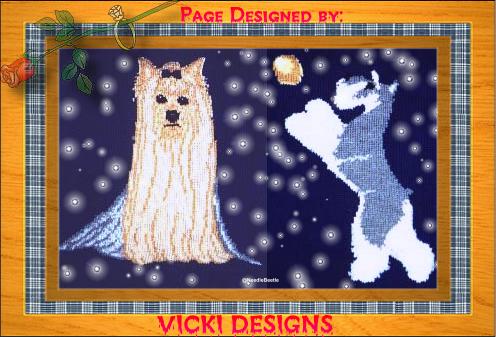 DOGGY  MEDICAL TRAVEL KIT

1. Ace bandage

2. Adhesive foam (cushion foot pads before bandaging)

3. Antiseptic towelettes

4. Aspirin (baby) (2 for adults, 1 for puppies)

5. Bacitracin or similar antibiotic ointment

6. Baggies (zip- & tie-close; small & large sized. Can be used for specimen collecting and storage.)

7. Benadryl (sealed pills)

8. Cotton balls

9. Cotton wrap 10. Gauze (2" or 3"; sterile)

11. Gauze pads (3x3 or 4x4; sterile)

12. Imodium A-D or Pepto Bismol

13. Petroleum jelly (Vaseline)

14. Razorblade/safety razor (use for cutting thick materials or area of dog's hair)

15. Salt for emetic

16. Scissors w/round ends

17. Soap (Neutrogena & germicidal)

18. Sock

19. Sunblock (for nose or light skin)

20. Tape, plastic first aid

21. Thermometer (bulb)

22. Tweezers

23. Vetwrap or gauze tape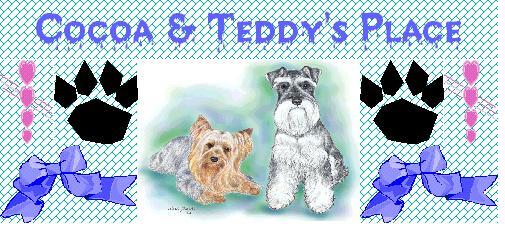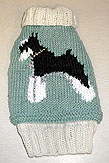 Mom makes Hand Knit

Dog Sweaters. Click picture above.




SchnorkieMom's Schnauzers & Schnorkie Yorkie